Transitions/Honors
Willie O'Ree
born Oct 15, 1935
1st Black in NHL, Number retired, Hockey Hall of Fame, NMAAHC statue, Congressional Gold Medal pending
Cheslie Kryst
Apr 28 1991 - Jan 30, 2022
Tragic death at 30 y.o., Miss USA 2019, pro-bono civil rights lawyer, newscaster, haunted by micro-aggression and overt hate National Suicide Prevention Line: 1-800-2730-8255
Andre Leon Talley
Oct 16, 1948 – Jan 18, 2022
2022 International fashion icon
Denise Perrier
Nov 12, 1939 - Dec 23, 2022
Our jazz diva!
Sidney Poitier
Feb 20, 1927 - Jan 6, 2022
Esteemed actor and freedom fighter
Bishop Desmond Tutu
Jul 7, 1931 - Dec 26, 2021
Bishop Emeritus of the South African Anglican Church, freedom fighter, peace maker
Lee Elder
Jul 14, 1934 – Nov 28, 2021
Champion golfer
Virgil Abloh
Nov 28, 1980 – Nov 28, 2021
Ghanian descent, fashion designer
Rev. Calvin Jones
Jan 26, 1951 – Oct 25, 2021
"Faithful Servant", Balboa HS graduate, Denver Broncos, pastor, Providence Baptist Church, 1991-2017, Providence Foundation
bell hooks
(Gloria Jean Watkins)
Sep 25, 1952 – Dec 15, 2021
Influential feminist writer and professor
Black Past
San Francisco Examiner journalist, Ben Schneider, writes about William Leidesdorff.
Society's newsletter available Online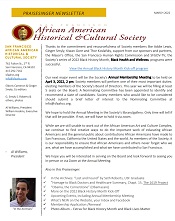 You may download the newsletter from the PDF reader
The 2022 BHM Theme is "Black Health and Wellness"
The Society held its annual Kick-Off and two theme-related workshops. You may view the recordings:
Black History Matters
Black History Month (BHM) has been observed since 1926 when Carter G. Woodson and the Association for the Study of Negro History & Life (ASALH) started. The Society has served as the "official" San Francisco body to kick-off these observances. The 2022 BHM theme is "Black Health and Wellness". This theme is all the more important due to the current epidemic. Our community's health has deteriorated in every way possible, exacerbating the inequities borne by our community in health, financial and educational futures and the general pursuit of happiness. The Society's BHM purpose is to uplift our people, educate all about our contributions, and rededicate ourselves to our community.
More about Black History Month at ASALH
More Black History
"Directory of Prominent Afro Americans on the Pacific Coast" (1890)
"We Are Not Strangers Here, African American Histories in Rural California" exhibit
ATTENTION - COVID CONTINUES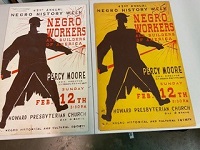 Now, we hope, the worst of the epidemic is behind us. Use your common sense as you return to "normal" activities. Be patient, get tested, get 'vaxxed and boosted, wear masks when you feel uncomfortable and wash your hands!
For vaccines sites: SF.Gov COVID-19 vaccine sites
Get 4 free at-home COVID tests.
Black Lives Matter Stop AAPI Hate and Violence!
Who We Are
The San Francisco African American Historical & Cultural Society is open to people of all ages, races and ethnicities. Our mission is to educate African Americans and others about the history and culture of San Francisco's African American community. To do this, a variety of programs, events and exhibits are presented. The Society maintains an archive of historic and cultural items and a research library. Black History Month observances, including "kick-off" and theme-based programs are our keystone activity. More at Mission and Collections.
Contact Us
We are located at AAACC, 762 Fulton Street, 2nd fl., San Francisco California, 94102
AAACC Information
The Society library and gallery are closed for the immediate future, but keep hope alive! Contact us via email Info@sfaahcs.org or call 415-292-6172.