Honors
Mary McCleod Bethune
Beloved educator and civil rights activist honored in National Statuary Hall. Her figure replaces a confederate general. Read at The Miami Times and the PBS Newshour.
Transitions
Shirley Herndon
1931-Mar 13, 2022
Friend to the Society, wife and partner to Society founder, James Herndon. She was an advocate to working people and active in labor unions. She and husband opened their home to community organizations and fundraising for African liberation movements. She is remembered by her daughters, grandchildren, brother and extended family, including the Society, see September Praisesinger.
Nicelle Nicols, "Lt. Uhuru,"
Dec 28, 1932 – Jul 30, 2022
Best known for her role as Lt. Uhuru, the communications officer, on the "Star Trek" Enterprise. The first inter-racial TV kiss between Lt. Uhuru and Captain Kirk (William Shatner) stirred controversy in the 20th century. Nichols inspired girls and women to seek futures in science, space technology and travel.
Bill Russell
Feb 12, 1932– Jul 31-2022
Famed NBA baller, played for the Celtics from 1956-1969, winning 11 championships. Locally best known for playing with the USF Dons in the 1950s. Commonly known for basketball, Russell was a peacemaker and activist. He was awarded the Presidential Medal of Freedom by President Barack Obama in 2011.
Pat Norman
Jan 21, 1939 – Aug 5, 2022
One of the first African American lesbians to organize and advocate for equal rights for the gay and lesbian communities. She was the first open lesbian working for the SF Dept. of Public Health, the Police Commission, and to run for SF's Board of Supervisors. At DPH, she helped establish AIDS programs. She held leadership roles in the March on Washington, as a delegate for Jesse Jackson (1988,) the Nelson Mandela Reception Committee, and the Mobilization for Peace, Jobs and Justice rallies.
Black Past
Ida B. Wells Barnett
The sixth in our Black Bicentennial series is that of Ida B. Wells Barnett, 1862-1931, journalist, founder of several black women's clubs, and militant nationalist.
Ida B. Wells Barnett was born in Holly Springs, Mississippi, a slave. She was educated at Rust College and was orphaned at the age of 15. By claiming to be older, she was hired as a teacher and supported her five brothers and sisters. She also studied at Fisk University and after interim the field of journalism she became one of the owners of a publication called the Memphis Free Speech. She utilized her newspaper and her journalistic skills to attack racism at every turn and she continually denounced the numerous lynchings of black people which were taking place. Her newspaper offices were destroyed and threats were made against her life.
Mrs. Barnett, fearing for her safety, eventually purchased a gun. She explained, "I had bought a pistol the first thing after Tom Moses was lynched because I expected some cowardly retaliation from the lynchers. I felt that one had better die fighting against injustice than to die like a dog or a rat in a trap. I had already determined to sell my life as dearly as possible if attacked. I felt if I could take one lyncher with me this would even up to score a little bit."
Mrs. Barnett took her fight against racism and lynching to Great Britain and there some sympathetic liberals formed a British Anti-Lynching Society. Among her many contributions, she chaired the Anti-Lynching Bureau of the National Afro-American Council, founded the first political black women's club, the Alpha Suffrage Club, and organized and was president of the Negro Fellowship League. The League represented mainly the poor and working-class community and, in addition to organizing blacks toward militant action against racism, maintained a settlement house. Ida B. Wells Barnett stands out as a militant, energetic journalist, and a promoter of feminism and black pride.
The Praisesinger Newsletter Vol. 3, No. 10, Nov 1976
Society's newsletter available Online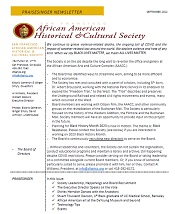 You may download the newsletter from the PDF reader
Recruiting Directors For Society Board
In order to sustain and grow the Society, we need a strong, activist Board. If you are interested in serving or know a candidate with needed skills and interests, please complete a Prospective Directors Form and send it back to the Society offices. Thanks.
Who We Are
The San Francisco African American Historical & Cultural Society is open to people of all ages, races and ethnicities. Our mission is to educate African Americans and others about the history and culture of San Francisco's African American community. To do this, a variety of programs, events and exhibits are presented. The Society maintains an archive of historic and cultural items and a research library. Black History Month observances, including "kick-off" and theme-based programs are our keystone activity. More at Mission and Collections.
Contact Us
We are located at AAACC, 762 Fulton Street, 2nd fl., San Francisco California, 94102
AAACC Information
The Society library and gallery are closed for the immediate future, but keep hope alive! Contact us via email Info@sfaahcs.org or call 415-292-6172.
The Society library and gallery are closed for the immediate future, but keep hope alive! Contact us via email info@sfaahcs.org or call 415-292-6172.

Black Resistance
ASALH, the organization aimed at educating Black folks about Black history and culture was established by Carter Woodson. Woodson and the ASALH founded Negro History Week, now Black History Month, to focus such efforts. 2023 will mark the 95th Annual Observation of Black History Month. The Society adapts the ASALH theme; the Black History Month theme for 2023 is Black Resistance. Learn more about ASALH and the 2023 BHM theme.
COVID IS STILL HERE - NEW VACCINE – FLU SEASON HERE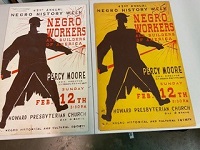 The number of people reporting as COVID positive is steady; the latest variant persists in the general public. Even if you are "fully" vaccinated, a case of COVID can mean a few days of discomfort to hospitalization to long term complications. Immune compromised, elderly and those with chronic disease continue to be at greater risk for illness. Stay safe and when available this Fall, obtain the new COVID vaccination which addresses several variants. Be patient, get tested, get 'vaxxed and boosted, seek immediate care if you are infected, wear masks when you feel uncomfortable and wash your hands! AND, Flu vaccinations are now available as well!
For vaccines sites: SF.Gov COVID-19 vaccine sites
Black Lives Matter Stop AAPI Hate and Violence!