Transitions
Janice Mirikitani
Feb 4, 1941-Jul 29, 2021
Poet Laureate of San Francisco 2000-2002, raised in Northern California; incarcerated with her family during WW II; earned a B. A. at UCLA; worked at Glide Church in the late 1960s; activist in Third World and Asian American movements; Director of the Glide Foundation; Mirikitani and Williams married in 1982.
Betty Reid Soskin
100th Birthday Sep 21, 2021
Oldest National Park Service Ranger posted to The Rosey the Rivetter/WWII Home Front Historic Park; born in Louisiana; her family moved to California; Soskin was raised in Oakland; she married young; was business partner and wife to Melvin Reid of Reid's Records, Berkeley; she was an activist – housewife- care-giver during the 1960s-1970s; singer songwriter; and park ranger, interpreting the role and importance of women in the war effort at home. Happy Birthday, Ms Soskin!
Michael Morgan
Sep 17, 1957–Aug 20, 2021
The Oakland Symphony's beloved maestro and arts' activist; born and raised in Washington D. C.; began his musical career at age 8, playing piano and conducting; studied at Oberlin College Conservatory and under notable musicians, composers and conductors; Morgan came to the Oakland Eastbay Symphony in 1991 and began a 30-year mission to bring the community to the symphony and more importantly, the symphony to the community. He was honored and remembered in a 3-hour concert at the Paramount Theatre by the Symphony and the many partners he cultivated and respected throughout his tenure. Bravo, Maestro!
Colin Powell
Apr 5, 1935–Oct 18, 2021
Child of immigrants; Powell earned "firsts" throughout his life; he was the ultimate military officer, he rising to the rank of 4-Star General and held the highest position as the Chairman of the Joint Chiefs of Staff, became National Security Advisor and eventually Secretary of State; Powell was respected by both Republicans and Democrats; he was honored in a funeral with military honors with several past and Presidents and President Biden in attendance at the National Cathedral on November 5, 2021.
James Dyer, Pioneer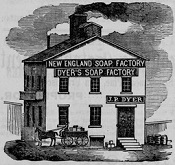 Did you know that in early San Francisco, circa late 1800s, soap making, tanning and other odiferous manufacturing activities took place closeby the then residential core? When "Society" grew, these businesses were forced to move to the city outskirts, including Potrero Hill. The New England Soap Company moved and operated well into the mid-20th century under a variety of names. Peter Linenthal, Director of the Potrero Hill Archive Project, brings you this story from his extensive research into the Queen Lily Soap Company and its founder, James Dyer. Click here to learn more.
Our facebook account

Society's newsletter available Online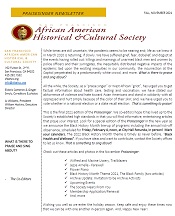 You may download the newsletter from the PDF reader
Welcome
The San Francisco African American Historical & Cultural Society is a membership-based non-profit, open to people of all ages, races, and ethnicities who support our mission. Founded in 1955, the Society is the oldest institution of its type in the western United States.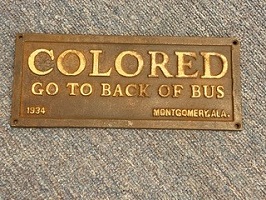 The Society is an active participant in the civic conversation, advocating for the African American community, seeking to instill pride in heritage and respect for our culture and contributions to society. It does so through telling San Francisco's story from the African American community perspective in lectures, symposia, public programs, public comment, exhibitions, printed materials, guided tours and more.
The Society collects, preserves and uses archival and print resources depicting economic, political, cultural and religious life of San Francisco's African American community and how the community has contributed to the broader society.
Since 1955, the Society leads an annual San Francisco Black History Month program based on the theme selected by the Association for the Study of African American Life and History. Join us at City Hall for the annual kick-off.
When we re-open post-COVID emergency, visit us at our Library and Gallery located at the African American Art and Culture Complex:
762 Fulton Street, 2nd floor, San Francisco, Ca 94115
Call us at 415-292-6172
Admission is free. However, donations are encouraged and greatly appreciated.
Consider joining the Society. Click here for the membership application. Coming soon – direct payment of membership dues and donations on our website.
The Society offices and gallery are closed for the immediate future. Board and Society members are working from home – keeping contact with you through voicemail, email, website, Facebook and online events. We want to hear from you; contact us at 415-292-6172 or info@sfaahcs.com with your concerns and questions.
Black Lives Matter
Black Lives Matter! We abhor and denounce hate and violence against our Asian neighbors and friends. We reject hate and violence against immigrants, people of any faith or none, those who identify as non-binary, women and children, other-abled, frail elderly, the marginalized and vulnerable. Structural racism underlies much of this hate. It must be dismantled and replaced with structures that promote equity and improve the lives of all. Thanks to the pioneering and present freedom fighters who leading the way.
If you wish to connect with African American history, which includes that of local and California freedom fighters, please don't hesitate to contact us; and when able, visit the Society to call upon our resources.
Corner Turned…But Be Safe!
The long-awaited end of the pandemic seems within reach, here in the Bay Area. Now that children ages 5-12 can be vaccinated, joining the 13 year-old and up population, we are nearing "normalcy". Continue to play it safe; the virus has not been eradicated; nor does the vaccination immunity preclude break-through infections. Wear your mask when shopping, at large social gatherings, on public transportation, and health care facilities, etc., unless specifically permitted. Bring your proof of vaccination or proof of a recent negative COVID test when venturing out. Get vaccinated; get a booster if you qualify; and encourage others to do the same. COVID-related information is available at the local Department of Public Health and at your own health care provider's office.
The Society hopes to see you in-person in the coming New Year!
For San Francisco vaccine sites click here: SF.Gov COVID-19 vaccine sites.
For San Francisco COVID-19 facts click here: Dept. of Public Health's website