Transitions
We are re-traumatized by the seemingly daily slaughter of black and brown bodies by police officers, and, the violence committed, so matter-of-factly, upon Chinese, Indian, Filipino and other neighbors of Asian descent. We continue to grieve for all those who have left us and are in solidarity with the survivors. We honor and acknowledge each one because each one matters.
Jerri Lange, noted journalist
April 21, 2021
A Virtual Exhibit
The Black Family Through The Artist Eye has been added to our Exhibits.
2021 – The Black Family: Identity, Representation and Diversity

The "official" annual Black History Month theme is selected by the Assn. for the Study of African American Life and History (ASALH). The Society is unofficially affiliated with ASALH and follows its official themes for planning and execution of activities during February. This past year has reminded us of the importance and necessity of the Black Family in all of its manifestations: the birth or foster family in which we grow up and grow into, the black family of our local communities, and networks, the Black Family of the African Diaspora, and the Black Family as the family of all peoples.
The Society brought you four programs during the month of February. View the Kickoff featuring remarks by Mayor Breed, Supervisor Walton, Speaker Pelosi, and keynote speaker, Charles "Chuck" Collins, Executive Director, Emeritus of the SF YMCA; or, a recording of "Family Histories" presentation, including the Rambo-Tyson family of Cass County, Texas, the Amanda Jones' family of Missouri, and the Stonestreet-Boldens of Indiana. Finally view the Family Photo Album featuring the three families above and the Sherman and Gore families. Family History Resources handout
Society's newsletter available Online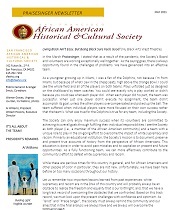 You may download the newsletter from the PDF reader
Black Lives Matter / Stop AAPI Hate
We continue to support the Black Lives Matter movement. We reject and denounce the violence used against our Asian neighbors and friends. We believe that structural racism underlies the inequities that African Americans face and influence the hate and violence meted out on Asians. Structural racism must be dismantled and replaced with structures that help improve the lives and the futures of African Americans, other people of color, and marginalized groups.Thanks to freedom fighters of California's African American past upon whom today's freedom fighters stand.
If you wish to connect with African American history, which includes that of local and California freedom fighters, please don't hesitate to contact us; and when able, visit the Society to call upon our resources.
Here are a few resources to check out:
Black Fatigue, Mary-Frances Winters: How racism erodes, mind, body spirit and how to heal.
Support Black-owned eateries in Berkeley and Oakland open for takeout.
GOOD NEWS! Black Film Festival returns, June 10-13, 2021.
Comfort During the Crisis
COVID is still with us even as some of us are being vaccinated; San Francisco is approaching the 50% mark. We encourage you to continue to wear a mask, social distance and wash hands whether immunized or not, though CDC mask wearing restrictions have lightened for most outside activities and when among a group of fully vaccinated individuals. Get information from your health care provider, State or local Public Health Departments for more information and to sign up notifications and/or appointments to be tested or vaccinated. For vaccine sites click here: SF.Gov COVID-19 vaccine sites. For COVID-19 facts click here: Dept. of Public Healths's website
The Society offices and gallery are closed for the immediate future. That hasn't stopped the Society functioning. Board and Society members are working from home – keeping contact with you through voicemail, email, website, Facebook and online events. We want to hear from you; contact us at 415-292-6172 or info@sfaahcs.org with your concerns and questions.
The Society encourages you to comfort others with your stories, linking the past to the present.
Welcome
The San Francisco African American Historical & Cultural Society is a membership-based non-profit, open to people of all ages, races, and ethnicities who support our mission. Founded in 1955, the Society is the oldest institution of its type in the western United States.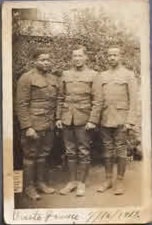 The Society is an active participant in the civic conversation, advocating for the African American community, seeking to instill pride in heritage and respect for our culture and contributions to society. It does so through telling San Francisco's story from the African American community perspective in lectures, symposia, public programs, public comment, exhibitions, printed materials, guided tours and more.
The Society collects, preserves and uses archival and print resources depicting economic, political, cultural and religious life of San Francisco's African American community and how the community has contributed to the broader society.
Since 1955, the Society leads an annual San Francisco Black History Month program based on the theme selected by the Association for the Study of African American Life and History. Join us at City Hall for the annual kick-off.
Visit us at our Library and Gallery located at the African American Art and Culture Complex:
762 Fulton Street, 2nd floor, San Francisco, Ca 94115
Call us at 415-292-6172
Admission is free. However, donations are encouraged and greatly appreciated.
Go to the Contacts tab to apply for membership and/or enroll in our mailing list.